QDX Multi-impeller submersible pump 1.1KW/1.5HP
WORKING PRINCIPLE
QDX pumps are half open impeller centrifugal submersible pumps, designed for automatic and non-automatic use. The impeller mounted on the drive shaft, consists of a rear disk and blades,which are enclosed by the pump body cover. fluid enters the rotating blade channel via the suction strainer,which forms the support base for the pump.here the fluid moves radially from the centre outwards.acquiring energy both in the form of pressure and increased speed.when it leaves the impeller the fluid is conveyed towards the volute.
here part of the kinetic energy is transformed into pressure energy and the fluid leaves the pump via the side opening machined in the pump body.
Applications
Applied to pump clean water without abrasive particles and liquid that is chemically non-aggressive to the materials of pump.Such as:
1.Well / River pumping
2.Water transfer
3.Domestic water supply
4.Garden / Farm Irrigation
5.General industrial services
Features
1.100% copper wire, and automatic wiring
2.C&U bearings ( the best bearing brand of China )
3.Double side mechanical seal
4.Cold-rolled silicon steel sheet, with high-speed punching, improve the efficiency and precision
5.304 Stainless steel welding shaft
6.Demagnetization of stainless steel nuts
7.Anti-rust treatment castings and electrophoresis
8.New testing equipment
Technical data
1.Max submerged depth up to 5m
2.Liquid temperature up to +40°C
3.Ambient temperature up to +40°C
4.PH value :4-10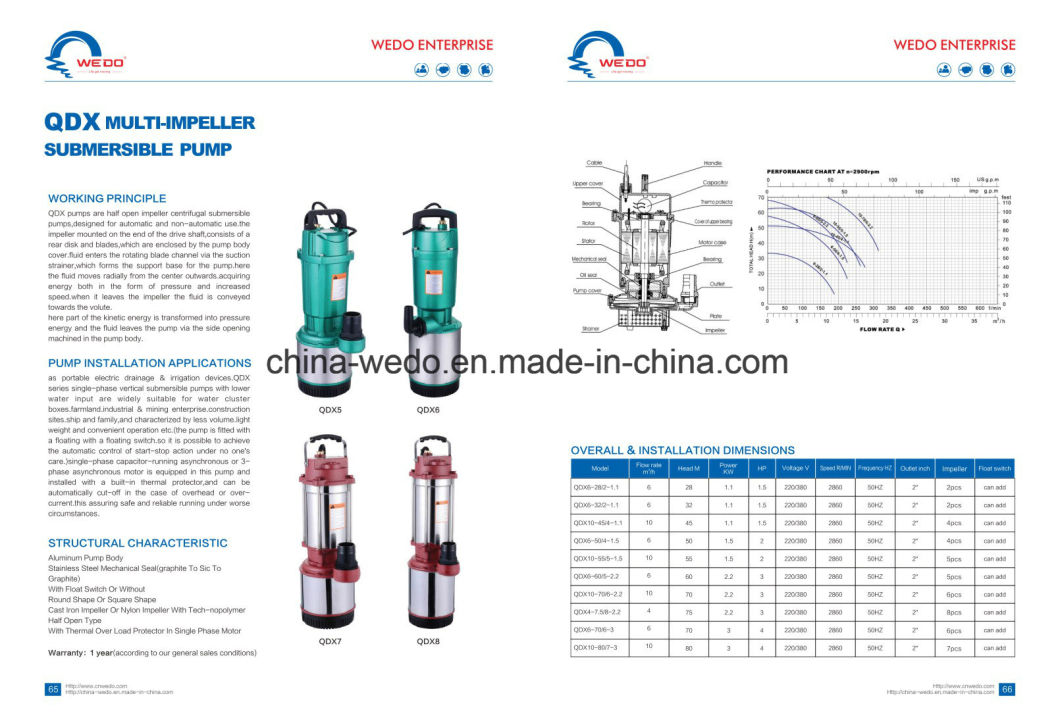 FAQ
Q:What is your MOQ of this item?
A:Our MOQ is a full 20ft container, first time cooperation, we accept trial order to check quality.
Q:Is it acceptable to make customers' own brand?
A:Sure, we can do OEM.
Q:What are your payment terms?
A:30% T/T deposit, 70% against documents, or L/C at sight.
Q:How long is your warranty?
A:One year!
Q:What is the delivery time?
A:25-30 days after receiving your L/C or T/T deposit.