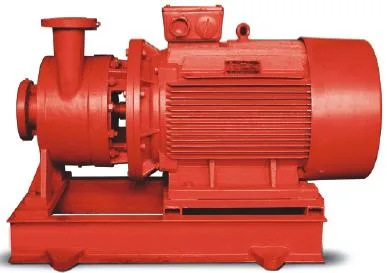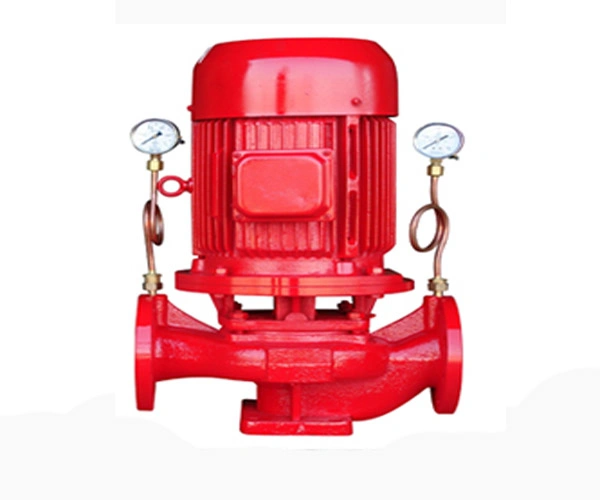 Techncial Parameter:
Flow range: 5- 80L/ S
Pressure range: O. 2- 2.25MPa
Power range: 1.5- 200KW
Inlet and outlet range: 50 - φ 250mm
Brief introduction
Model XBD-W fire control pump divide into single stage single suction and single stage double suction segmental type. It is widely used in transporting fresh water and other liquid that physical an d chemical properties are similar to water. Used mainly in fire-fighting system pressurization water supply, can also used in factories and mines giving and drainage of water. The flow rate range is 5- 80L/ S, pressure range is O. 2- 2.25MPa, the related power range is 1.5- 200KW, the inlet and outlet range is φ 50 - φ 250mm.
Range of application
Model XBD-W fire control pump used mainly in pipeline pressurization of fire-fighting system. Can also be suitable for industry and city's giving and draining off water, skyscraper pressurization water supply, heating, bathroom, boiler hot and cold water circulation pressurized, air conditioner refrigeration system, and so on, have replaced the original IS type.
The structure explanation
Model XBD- W single stage single suction fire control pump is made up of electrical motor and pump, the pumps and motors are coaxial, pump structure includes pump body, impeller, pump cover, mechanical seal, etc.
The pump inlet and outlet are on the same horizontal axis, and the specification is the same, it is extremely convenient to dismantle, the floor space needed is small. Installation base will increase the operation stability. Adopt mechanical seal, featuring reliable and without leakage. Axial force of pump is balanced by the impeller equilibrium ring. The pressure of the inlet and outlet flange of the pump are designed as 1.6MPa.
Model XBD- W single suction multistage segmental type fire control pump is made up of electrical motor and pump, electrical motor is Y type three phase, the pump and motor are joined by shaft coupling, the whole is rigid joined, no need to adjusting while using. The pump is made up of stator part and rotor part. Pump stator part includes inlet water section, midsection, guide leaf, outlet section, etc...In order to prevent the stator from wearing and tearing, the sealed ring, balanced set and so on are equipped on the stator, the stator can also be changed after wearing and tearing. Rotor part is make up of axle, balanced drum, etc...The bottom of the rotor is water lubricated bearing, the top is ball bearing, the axial force of the pump is burdened mostly by the balanced drum, the remaining by ball bearing. Water inlet section, midsection and outlet section combination surface of section with paper cushion through strain, so as to seal, users can follow the need to choose.