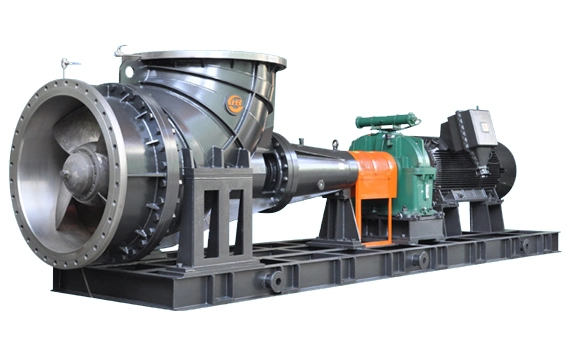 Axial flow pump
HZW chemical axial-flow pump is a single-stage, single-suction cantilever type and is mainly used in chemical process with large flow rate and low delivery head, especially suitable for forced circulation process of material conveyance, vaporizing concentration, crystallization in alkali, salt, fermentation, metallurgical, phosphorous fertilizer industries.
Mechanical seal: According to customer's requirements
We provide:
1. Mechanical seal---171(A) mechanical seal (this kind of seal is the national-patented product, patent No. ZL92 2 20977.4 ) single or dual MS.
2. Dynamic seal.
3. Packing gland seal.
Or other brands.
Coupling: Pin type coupling
Application:
Salt-making industry: Evaporating concentration of NaC1;
Light industry:
Evaporating concentration of lactic acid, and alcohol, chemical reaction of VCNa food preserving agent, evaporation of sugar solution.
Metallurgy: Evaporating concentration of copper sulphate and nickel sulphate;
Phosphorous fertilizer plant:
Wet-process concentration of phosphoric acid, concentration of ammonium phosphate slurry;
Glauber salt plant: Media concentration of Na2SO4 evaporator;
Aluminum oxide: Evaporating concentration of sodium aluminate lye3.
Materials:
For wetted parts in contact with medium, the common materials are as follows: 304, 316, OCr25Ni6, 316L, SAF2205, 310S, 904L, TA2, Ni6, Monel