KAIYUAN XBC DIESEL ENGINE FIRE PUMP FROM China PUMP SUPPLIER
>>>OVERVIEW:
A late-model fire-fighting equipment, XBC diesel engine fire-fighting pump group series are developed successfully, strictly complying with national standard-GB6245 2006 "Performance requirement and testing method of fire fighting pumps" and with NFPA20 "Installation of centrifugal fire-fighting pumps".
Classified by fitted ones (single stage single suction type, single, this equipment can fall into three sub-categories: XBC-IS, XBC-S and XBC-D The equipment are widely used in many occasions
Related diesel engine are classical domestic or imported ones, which have feature of stable starting, high capacity compact structure, easy maintenance and high automation, thus, they are fire-protection equipment with advanced and dependable performance.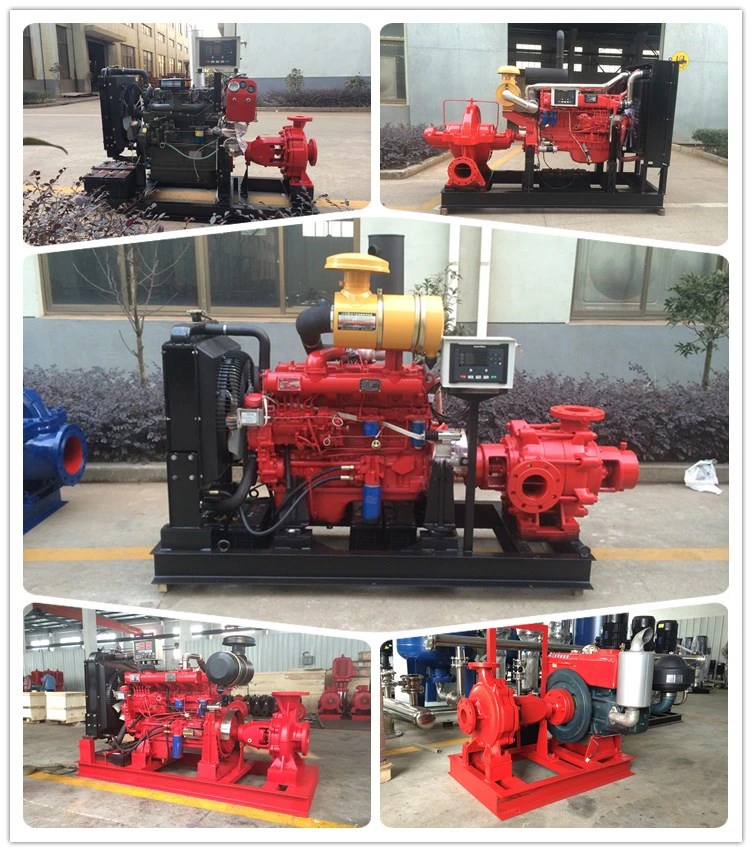 >>>STRUCTURE&FUNCTIONS:
X61 35, 12V1 35, 4102 4105, 61 02, 4100 495 etc diesel engines series provide power for our pumps. Fire-fighting pump unit consist of fire-fighting pump and these diesel engines (also work with clutches), which is attached to high elastic clutches, besides diesel tank, radiation water tank, blower, control screen (for the automation unit) etc components.
Being the auto-control unit, a separate diesel engine auto-control cabinet(Programmable)carries out the system's automatic starting, performance, auto-switching(the motor pump unit is switched to the diesel engine pump one or the diesel engine pump unit to another unit), auto-protection(warning and stopping protection for the diesel engine's over-speed, lower oil pressure, high water temperature, three times of failures in starting, low voltage of accumulator warning etc functions)and also can be connected to fire fighting centers of users or the auto-warning device of fire with the purpose of remote monitoring.
In order To keep the unit working normally below 5, it can be fitted with an AC220V water-cooling pre-heater.
The diesel engine fire-fighting pump group can be formed as an automatic fire fighting ware-supply system (see tabel1), with an electric pump and pressure maintaining one, as you can read "Diesel engine control system". The equipment can be jointly controlled with a fire-fighting center.
There are two water inlet ways: Self-pouring and suction-up. The former is preferred because of fire-protection standard. If our clients specially ask for suction-up ones, they are required to point out so our company supply automatic vacuum water leading device. However, the change of dimension of the pump unit is necessary.
>>>SCOPE OF SUPPLY:
We supply diesel engine (including oil tank and accumulator)fire-fighting pump, high elastic clutch and their pedestal and electric control cabinet for control. Auto-fire-fighting water supply system formed by electric fire-fighting pump pressure and stabilizing pump etc. Made in this company in fact are composed of the electric fire fighting pump, pressure stabilizing pump group and pressure controller. The joint cables for control cabinet and pump unit are not our business.
>>>MODEL MEANING:
XB: Fire pump mark of engineering-oriented application
C: Fire pump mark of diesel-driven engine
Whether you need the highest quality fire-fighting pump on the market or a complete kit to tackle complex Fire-fighting pump applications, Kaiyuan pump from Shanghai China is the best brand to trust.
>>>FACTORY VIEW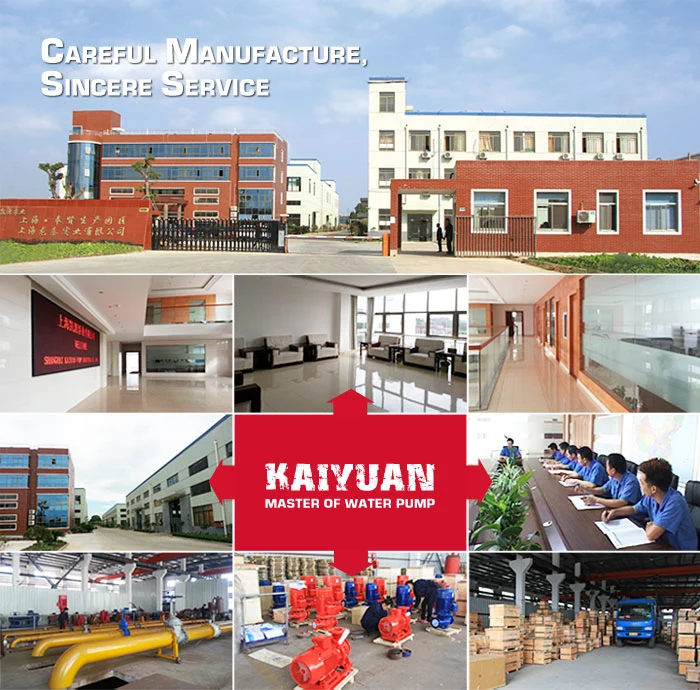 >>> Other Pumps You May Be Interested In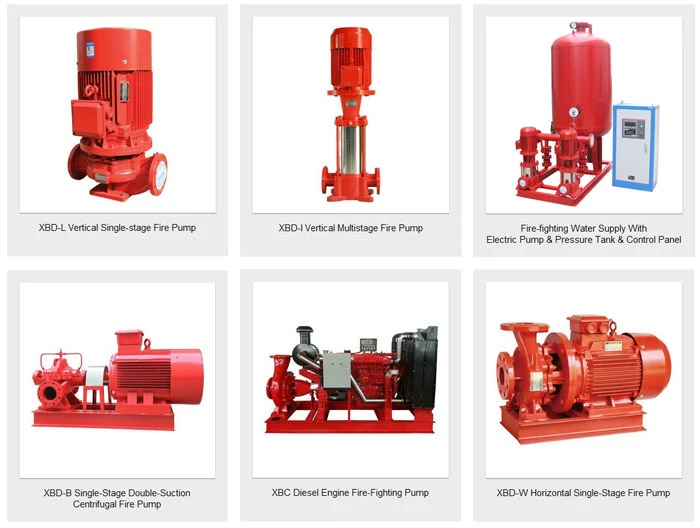 Contact us directly at 0086-021-37129015.
XBC Model Form
Model
Speed
(r/min)
Capacity
(L/S)
Pressure
(Mpa)
Effi.
(%)
NPSH
(m)
Shaft Power
(KW)
Diesel Power
(KW)
Inlet/Outlet
(mm)
Weight
(Kg)
3/10
2000
10
0.3
71
2.5
5.5
7.5
100/65
91
3/20
2000
20
0.3
71
3
9.5
13.8
100/65
91
3/30
2000
30
0.3
69
3.8
16.8
20.6
125/100
129
3/40
2000
40
0.3
77
4.8
18.5
23.2
125/100
129
4/10
2000
10
0.4
71
2.5
7.4
13.8
100/65
91
4/20
2000
20
0.4
77
3
11.2
15.3
125/100
129
4/30
2000
30
0.4
74
3.6
18.2
26.5
125/100
145
5/10
2000
10
0.5
65
4.2
8.7
13.8
100/65
120
5/20
2000
20
0.5
65
4.5
19.9
26.5
100/65
120
5/30
2000
30
0.5
74
4.5
25.7
35.3
125/100
145
5/40
2000
40
0.5
74
4.9
32.8
35.5
125/100
145
5/50
1500
50
0.5
75
2.8
36.3
58
150/125
212
5/100
1500
100
0.5
81
3.8
67.2
105
200/150
245
5/110
1500
110
0.5
81
4.5
68.4
105
200/150
245
6/10
2000
10
0.6
65
2.5
11.5
15.3
100/65
120
6/20
2000
20
0.6
74
3
19.7
26.5
125/100
145
6/30
2000
30
0.6
74
3.6
29.7
40.4
125/100
145
4/30
1500
30
0.4
75.5
4.1
15.6
20.6
125
475
6/30
1500
30
0.6
75.5
4.1
23.4
31.6
125
555
8/30
1500
30
0.8
75.5
4.1
31.2
34.3
125
640
10/30
1500
30
1
75.5
4.1
39
58
125
726
12/30
1500
30
1.2
75.5
4.1
46.8
75
125
840
14/30
1500
30
1.4
75.5
4.1
54.6
75
125
923
16/30
1500
30
1.6
75.5
4.1
62.4
75
125
1008
18/30
1500
30
1.8
75.5
4.1
70.2
110
125
1093
6/40
1500
40
0.6
77
3.9
32.8
58
150
490
9/40
1500
40
0.9
77
3.9
49.3
75
150
575
12/40
1500
40
1.2
77
3.9
65.7
75
150
660
15/14
1500
40
1.5
77
3.9
82.1
110
150
745
18/40
1500
40
1.8
77
3.9
98.5
160
150
830
8/80
1500
80
0.8
77
4.7
85.2
110
200
667
12/80
1500
80
1.2
77
4.7
127.7
160
200
787
16/80
1500
80
1.6
77
4.7
170.3
220
200
907
20/80
1500
80
2
77
4.7
212.3
279
200
1027
25/80
1500
80
2.5
77
4.7
255.5
279
200
1147
18/125
1500
125
1.8
79
4.9
229.2
338
250
1750