Centrifugal Diesel Water Fire Fighting Pump Set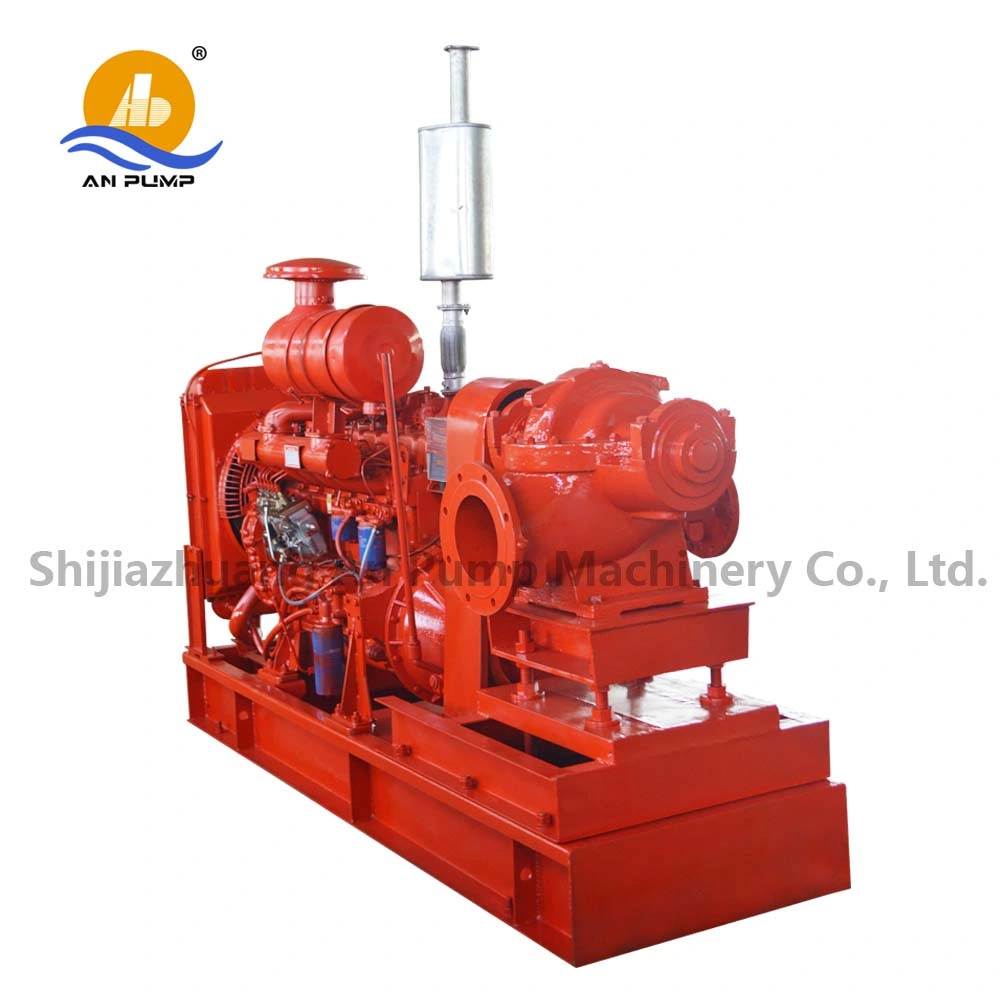 1. QS
Diesel Engine Split Case Pump Introduction
QS diesel engine split case pump is a new generation of
single stage double suction centrifugal split case pump with high performance and
reliability,it is mainly applied to liquid transferring occasions like waterworks,air conditioner circulation water,heat supply pipe network
system,building water supply, irrigation, drainage pump station, power station,industrial water supply system, fire fighting system,ship industry,water supply
and drainage for mines, etc.
2.QS Diesel Engine Split Case Pump Feature
(1)Have QS and QSH two types.
Viewed
from drive engine, the direction of the QSH pump is anti-clockwise, that is the
suction in the left, the discharge in the right. The rotating direction of the
type QS pump is clockwise, that is the suction in the right, the discharge in
the left. Also can move the driver to another edge according to the user's
requires. Then, the rotating direction, the suction and discharge direction is
in the opposite as the described above.
(2)Supply full set split-casing centrifugal pump, motor, coupling, the inlet
diameter less than 200mm match the common base.
(3)The pump is axial split casing construction.
(4)Large capacity.
3.QS Diesel Engine Split Case Pump Application
This pump is applied in pumping fresh water, river water, corrosive
water, impurity water, dirty water, etc. Such as
1. Irrigation
2. Fire fighting
3. Industry water
4. Mine water pump
5.Transport water with salt or any other impurity
things
4
.QS Diesel Engine Split Case Pump Materials
The
QS split case water pump is widely used for clean water, sea water . Diesel driven split
case large flow centrifugal pump could be customized with different material,main material configuration followed :
Item

Clean Water

Drink Water

Hot Water

Sea Water

Case & Cover

Gray Iron (HT250)

S.S304

Cast Steel

Duplex S.S 2205

Impeller

Gray Iron (HT250)

S.S304

2Cr13

Duplex S.S 2205

Wearing Ring

Gray Iron (HT250)

S.S304

2Cr13

Duplex S.S 2205

Shaft

C.S 45

S.S420

40Cr

Duplex S.S 2205

Shaft Sleeve

C.S 45

S.S304

S.S304

Duplex S.S 2205

Remarks: Detailed Material List Will According To Liquid And Site Conditions
We could also do all kinds of special materials like bronze (brass), duplexstainless steel pump and parts for special application.
5
.Company information
Shijiazhuang An Pump Machinery Co.,Ltd is a manufacturer and trading enterprise, which is mainly engaged in pump designing, manufacturing, selling and service. We develop the international trading business of mining equipment, slurry pumps, and water pumps according the wide customer resource, comprehensive technology and reasonable staffing.
An pump machinery's main products includes: slurry pump, desulfurization pump, gravel pump, mud pump, sewage pump, submersible pump, submersible sewage pump, impurity pump, large capacity split casing pump, high head multistage water pump, end suction pump, self priming pump, pump parts and ancillary equipment). which can satisfy different kinds of demands.
6. Our service
1). Offer high volume leakage oil pump solution design as working condition,
2). Installation and adjustment in your working condition,
3). OEM service avaliable,
4). Selection pump and related equipement,
5). Sample available.
Any problem of pumps, contact me please.
Welcome to visit our factory!