1.Product Introduction.
EDJ series is a packaged fire pump set,generally an automatic fire water supply system It consists of a main pump (driven by an electrical motor),stand by pump (driven by diesel engine) and a jockey pump.This model comes equipped with a separate controller,or one that is attached to the skid,The package also contains discharge valves,common header,and accessories.
2. Working Principle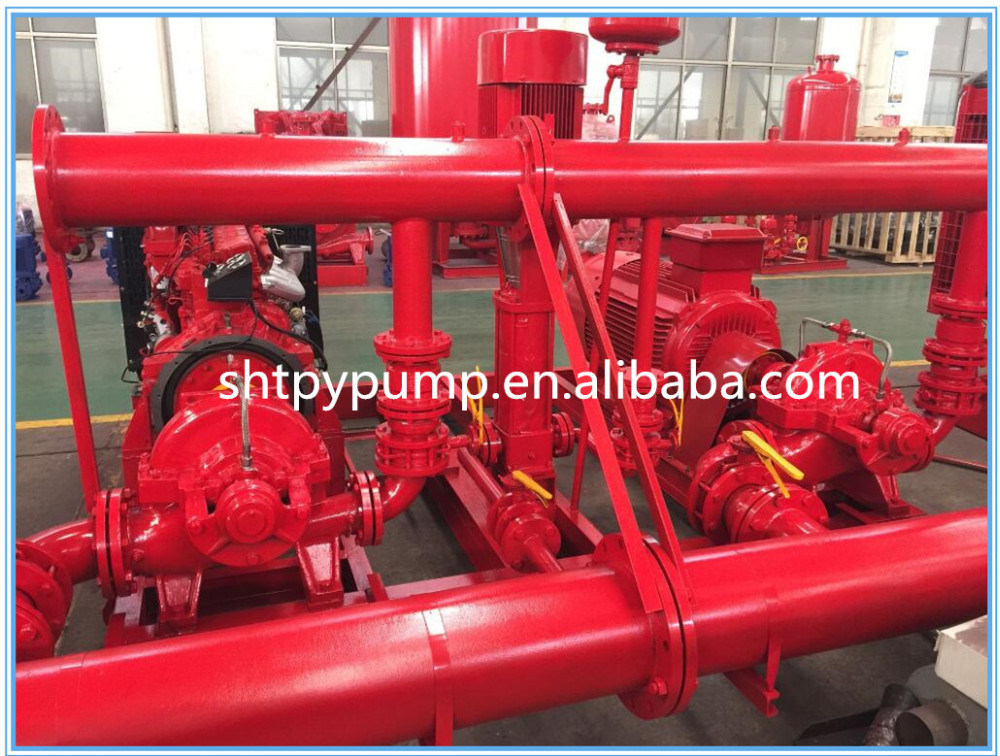 Generally the pipeline network's pressure is between the low pressure P1 and the high pressure P2.When the above pressure is lower than P1,the pressure maintaining pump will start automatically and not stop until the pressure rises gradually to P2.Due to the pipeline network's leakage,its pressure will drop to P1 gradually,and then the pressure maintaining pump will start automatically again.with such a repeated process,the pipeline network's pressure is maintained between P1 and P2 all the time.when the pipeline network's pressure can't be maintained between P1 and P2 (for instance,when the water consumption increases a lot) and drops to the minimum pressure P3,the electric pump will start automatically and the pressure will rise to Pw and meet the need for fire water supply,if the mains supply is power-off or the electric pump fails,the pressure will continue to drop from P3 to the ultimate pressure P4.then the diesel pump set will start automatically,and the pressure will rise to Pw and meet the need for fire water supply.the electric or diesel pump shall be stopped manually after human judgment (except automatic switching ).
3.Each pump information(E+D+J) & Controller Information
Diesel engine pump Specs
Diameter of pump outlet:DN80-800mm
Pump flow range :Q≤11600m3/h
Pump lift head range:H≤200m
Pump working pressure:P≤2.5Mpa
Pump working temperature:T≤105°C
Pump working voltage:U=380V,6kV,10kV
The diesel engine is fixed on the base with anti-vibration rubber pads and the pump is directly coupled to a diesel engine through flexible coupling, According to the power output of the engine the electrical system,the diesel engine can be Cummins,Deutz,Perkins and Other China brand engine(Shangchai,Yuchai,ec.) and it consists of alternator, started motor, fuel system, lubricating system, exhaust system, etc.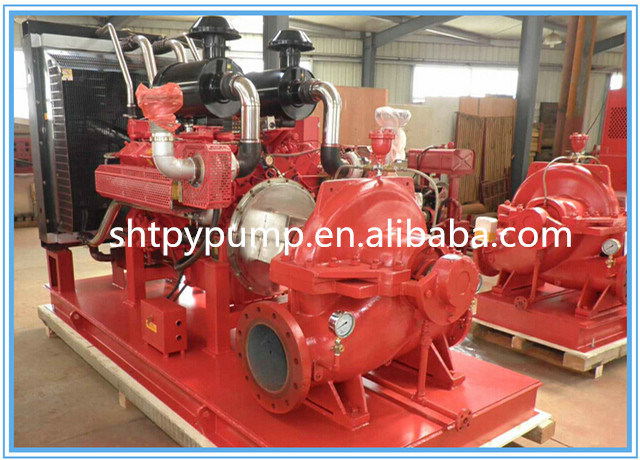 4, Electric motor pump and Jockey pump
The electric pump is Horizontal Split Case Centrifugal Pump,we also can choose end suction pump and horizontal multistage pump,just as per client's pump specs requirement.
The motor is squirrel cage industrial type and foot mounted suitable for 3 phase, with required hose power rating.
The Jockey pump specs will be choosed as per Diesel engine & electric motor pump specifications.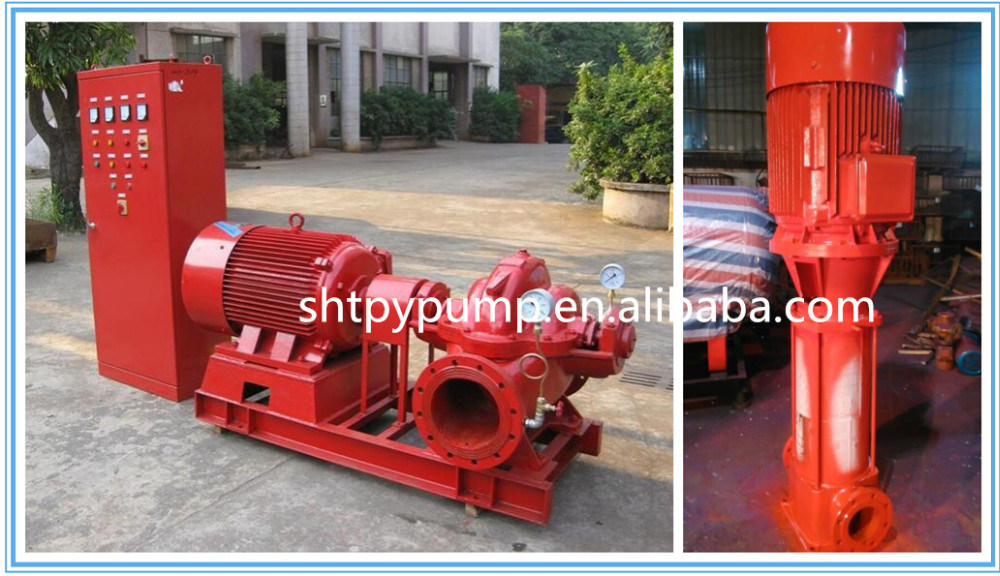 5, Controller Information

The common controller is fabricated from mild steel and epoxy powder coated to red color. The enclosure id IP 54 rated and having all the required controls complying with the applicable standards (NFPA).

Manual starting: If set up for the"Manual"position with the black 2# three-way switch on the control panel mode,That you can use "Manual" start button and "Manual" stop button to control diesel engine pump start or stop. when the black three-way switch to the"stop"position,diesel pump can't work.

Automatic starting: If set up for the"Auto"position with the black three-way switch on the control panel mode,it will receives an effective fire alarm signal to control diesel pump start or stop. Through the pressure controllers on the common outlet pipe to achieve pressure control.first, use two 1" 1.5 square signal lines to connect between the pressure controller normally open contacts and the control cabinet's terminal No. 111 and 127. then, set a low-value and high-pressure for pressure controller to achieve low-voltage to start pump and high-pressure to stop pump. Last,if the electric main pump is overload,the diesel engine pump will start.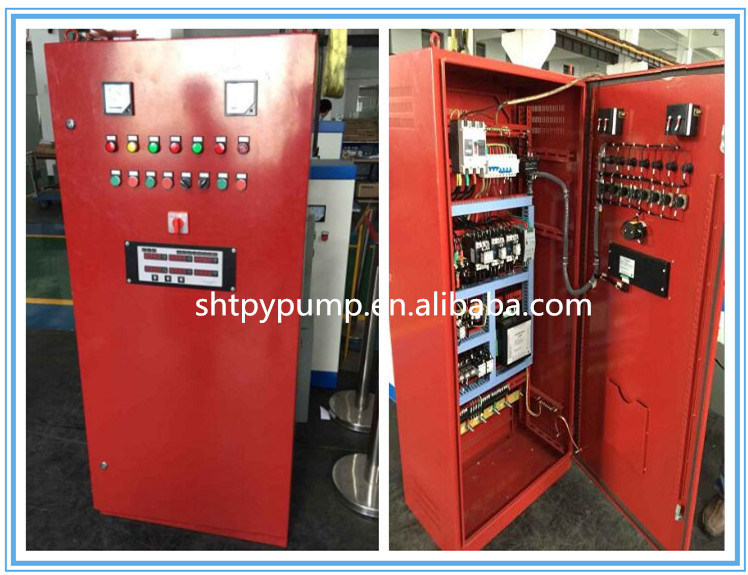 4.FAQ
1.Q: Are your company is trading company or manufacture?

A: Shanghai Pacific Pump Group Co.,Ltd. is a large professional manufacture for more than 18 years in china,and produce with their own factory.

2. Q: What's your factory workshops?

A: Our factory produce include casting,mechanical process,lathe process,heat treatment,assembly,and test,etc. Warmly welcome to visit & test our factory any time.

3. Q: How about your pumps price?

A: Our price is factory price,and insist high quality for long-term cooperation.

4. Q: How to do if the pump or parts have operation problem within your warranty?

A: Tell me details timely,and show me pictures,we will send you solution at once without any hesitation.

5. Q: We don't know which pump model we need,can u help us?

A: Yes,pls tell me your detail requirement,include liquid,flow rate,head,etc.and our engineers team will calculate & select most suitable pump model for u,offer pump solution for u.
| | | | | | | |
| --- | --- | --- | --- | --- | --- | --- |
| Pump Type | | Flow | Flow | Lift head | Rotation speed | Motor power |
| | | m3/h) | (L/s) | (m) | (r/min) | (kw) |
| TPOW350-380(I) | | 1733 | 481.4 | 32 | 1480 | 200 |
| | A | 1692 | 470 | 26.5 | | 160 |
| | B | 1641.6 | 456 | 21 | | 132 |
| | C | 1602 | 445 | 15 | | 110 |
| TPOW350-380 | | 1424 | 395.6 | 31 | 1480 | 160 |
| | A | 1335.6 | 371 | 26.3 | | 132 |
| | B | 1270.8 | 353 | 22.5 | | 110 |
| | C | 1188 | 330 | 17.8 | | 90 |
| TPOW350-440(I) | | 2745 | 762.5 | 43.5 | 1480 | 450 |
| | A | 2635.2 | 732 | 35 | | 355 |
| | B | 2563.2 | 712 | 27.5 | | 280 |
| | C | 2484 | 690 | 21.5 | | 220 |
| TPOW350-440 | | 2235 | 620.8 | 42.5 | 1480 | 355 |
| | A | 2088 | 580 | 36 | | 280 |
| | B | 1987.2 | 552 | 30 | | 250 |
| | C | 1847.6 | 516 | 25 | | 200 |
| TPOW350-520(I) | | 2610 | 725 | 70 | 1480 | 630 |
| | A | 2430 | 675 | 60 | | 560 |
| | B | 2232 | 620 | 50 | | 400 |
| | C | 2070 | 575 | 38 | | 315 |
| TPOW350-502 | | 2450 | 680.6 | 67 | 1480 | 630 |
| | A | 2268 | 630 | 59.5 | | 500 |
| | B | 2088 | 580 | 50 | | 400 |
| | C | 1944 | 540 | 41.5 | | 315 |
| TPOW350-640 | | 2160 | 600 | 126.2 | 1480 | 1000 |
| | A | 2000 | 556 | 116 | | 900 |
| | B | 1920 | 533.3 | 106 | | 800 |
| | C | 1830 | 508.3 | 95.6 | | 710 |
| | D | 1695 | 470.8 | 83 | | 560 |
| TPOW400-550(I) | | 2635 | 731.9 | 86 | 1480 | 800 |
| | A | 2520 | 700 | 79 | | 710 |
| | B | 2418 | 671.6 | 71.8 | | 630 |
| | C | 2311.5 | 642 | 64 | | 630 |
| | D | 2235.6 | 621 | 57.8 | | 560 |
| TPOW400-550 | | 2190 | 608.3 | 63.8 | 1480 | 500 |
| | A | 2045.5 | 568.2 | 57.8 | | 450 |
| | B | 1882 | 522.7 | 51.2 | | 400 |
| | C | 1767.6 | 491 | 45 | | 315 |
| TPOW400-600 | | 2502 | 695 | 90.2 | 1480 | 800 |
| | A | 2422 | 672.7 | 81.8 | | 710 |
| | B | 2354 | 654 | 74 | | 630 |
| | C | 2225.5 | 618.2 | 68 | | 560 |
| | D | 2127.6 | 591 | 59.8 | | 500 |
| TPOW400-600(I) | | 3176.5 | 882.4 | 113 | 1480 | 1250 |
| | A | 3007 | 835.3 | 103.6 | | 1120 |
| | B | 2922.4 | 811.8 | 93 | | 1000 |
| | C | 2732 | 758.8 | 83.7 | | 900 |
| | D | 2641.6 | 706 | 74 | | 800 |
| TPOW500-520(I) | | 3217.5 | 893.8 | 25 | 980 | 280 |
| | A | 3088 | 857.8 | 23 | | 250 |
| | B | 2964.5 | 823.3 | 21 | | 220 |
| | C | 2846 | 790.6 | 18.4 | | 200 |
| | D | 2732 | 758.9 | 16.3 | | 180 |
| TPOW500-520 | | 2777 | 771.4 | 22.5 | 980 | 220 |
| | A | 2638 | 732.8 | 19.5 | | 200 |
| | B | 2484 | 690 | 5.6 | | 160 |
| | C | 2178.5 | 605.1 | 13.8 | | 132 |
| TPOW500-650(I) | | 3510 | 975 | 41.5 | 980 | 500 |
| | A | 3352.5 | 931 | 38.7 | | 450 |
| | B | 3172.5 | 881 | 36 | | 400 |
| | C | 3015 | 837.5 | 33.2 | | 355 |
| | D | 2767.5 | 768.8 | 29.7 | | 315 |
| TPOW500-650 | | 2992 | 831.3 | 33.7 | 980 | 355 |
| | A | 2835 | 787.5 | 30.2 | | 315 |
| | B | 2722.5 | 756.3 | 27.7 | | 280 |
| | C | 2642.5 | 706 | 24 | | 250 |
| TPOW500-710(I) | | 3852 | 1070 | 64.4 | 980 | 900 |
| | A | 3672 | 1020 | 59.2 | | 800 |
| | B | 3470.4 | 964 | 53 | | 710 |
| | C | 3204 | 890 | 47.7 | | 560 |
| | D | 3024 | 840 | 42 | | 500 |
| TPOW500-710 | | 3006 | 835 | 49 | 980 | 560 |
| | A | 2812.5 | 781.3 | 44.2 | | 450 |
| | B | 2632.5 | 731.3 | 39.3 | | 400 |
| | C | 2407.5 | 668.7 | 34.6 | | 355 |
| TPOW500-800(I) | | 3996 | 1110 | 80.6 | 980 | 1120 |
| | A | 3600 | 100 | 72.8 | | 900 |
| | B | 3204 | 890 | 65.3 | | 800 |
| | C | 2880 | 800 | 58 | | 630 |
| TPOW500-800 | | 3474 | 965 | 62.5 | 980 | 800 |
| | A | 3330 | 925 | 55.8 | | 710 |
| | B | 3150 | 875 | 49.6 | | 560 |
| | C | 2970 | 825 | 43.6 | | 500 |
| TPOW500-860(I) | | 4183.2 | 1162 | 111.2 | 980 | 1600 |
| | A | 3996 | 1110 | 100.7 | | 1400 |
| | B | 3780 | 1050 | 90.4 | | 1250 |
| | C | 3528 | 980 | 80.4 | | 1120 |
| TPOW500-860 | | 3600 | 1000 | 90 | 980 | 1120 |
| | A | 3492 | 970 | 82.9 | | 1000 |
| | B | 3384 | 940.3 | 77.2 | | 900 |
| | C | 3204 | 890 | 71.2 | | 800 |
| | D | 3081.6 | 856 | 65.8 | | 800 |
| TPOW600-560(I) | | 4716 | 1310 | 24.2 | 980 | 400 |
| | A | 4428 | 1230 | 21.5 | | 355 |
| | B | 4046.4 | 1124 | 17.8 | | 250 |
| | C | 3787 | 1052 | 15.4 | | 220 |
| TPOW400-560 | | 3996 | 1110 | 20.2 | 980 | 280 |
| | A | 3744 | 1040 | 17.8 | | 250 |
| | B | 3461.5 | 961.5 | 15.63 | | 200 |
| | C | 3157 | 877 | 13 | | 160 |
| TPOW600-630(I) | | 4736.5 | 1315.7 | 39 | 980 | 630 |
| | A | 4420 | 1230 | 34.1 | | 560 |
| | B | 4080 | 1133 | 29.1 | | 450 |
| | C | 3755 | 1043 | 24.8 | | 355 |
| TPOW600-630 | | 3712.5 | 1031 | 33 | 980 | 450 |
| | A | 3442.5 | 956 | 29 | | 315 |
| | B | 3172.5 | 881 | 25 | | 280 |
| | C | 2947.5 | 818.8 | 21.4 | | 250 |
| TPOW600-720(I) | | 4630 | 1286 | 58.4 | 980 | 900 |
| | A | 4320 | 1200 | 50 | | 800 |
| | B | 4050 | 1125 | 43 | | 630 |
| | C | 3752 | 1042 | 35.2 | | 500 |
| TPOW600-720 | | 3588 | 994 | 53.7 | 980 | 710 |
| | A | 3312 | 920 | 45.8 | | 560 |
| | B | 3105 | 862.5 | 40.5 | | 450 |
| | C | 2902.5 | 806 | 35.1 | | 400 |
| TPOW600-860(I) | | 5538 | 1538.3 | 87.5 | 980 | 1600 |
| | A | 5109 | 1419.2 | 77 | | 1400 |
| | B | 4680 | 1300 | 65.5 | | 1120 |
| | C | 4355 | 1209 | 56 | | 900 |
| TPOW600-860 | | 4356 | 1210 | 66.2 | 980 | 100 |
| | A | 4100 | 1138.9 | 58.2 | | 800 |
| | B | 3818.8 | 1060.8 | 50.2 | | 710 |
| | C | 3482 | 967.3 | 42.4 | 980 | 560 |